Blog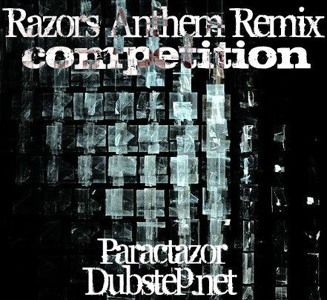 Dubstep.NET and Paractazor and thrilled to present the "Razors Anthem" remix competition! The original song, produced and composed by Paractazor himself, can be heard here:
The contest ends on February 20th, 2012. (Date subject to minor change as needed, however no late entries will be accepted.) 
Winners will be announced within two weeks after the end of the competition.
Submissions will be judged on: 
- Overall quality, originality and creativity of the remix.  
- Skillful incorporation of the provided original stems.  
- Progression and dynamism truly worthy of the title "Anthem".  
Stems can be downloaded here: http://dl.dropbox.com/u/46122405/Remix%20Razors%20Anthem.zip 
Note: Many of the stems contained some form of side-chaining in the original mix. This effect was turned off when the stems were rendered to maintain a high audio quality.  
Original Song Stats:
- BPM: 104  
- Key: A minor (C major)  
- Genre: Dubstep/Glitch  
Contest rules: 
- Your remix must be named: Paractazor - Razors Anthem (_____ remix)  
- Your remix must be entered in this group (http://soundcloud.com/groups/razors-anthem-remix-contest) by the deadline to be considered in the competition.  
- Your remix MUST NOT be available for free download. When the contest ends, non-winning remixes may be offered for free. 
The Winner(s): 
Will be chosen by Paractazor and the Dubstep.NET team, they will be anounced shortly after the competition closes.  
Prizes: 
The competition winner(s) will recieve an exlusive track release with Dubstep.NET and will also recieve promotion via Paractazor's various networks.   
Links: 
-Soundcloud: Paractazor 
-Soundcloud: Dubstep.net   
-Webpage: http://www.dubstep.net 
-Facebook: https://www.facebook.com/paractazor 
-Facebook: https://www.facebook.com/dubstepnet 
Contact:  
paractazor@yahoo.com
Comments