Blog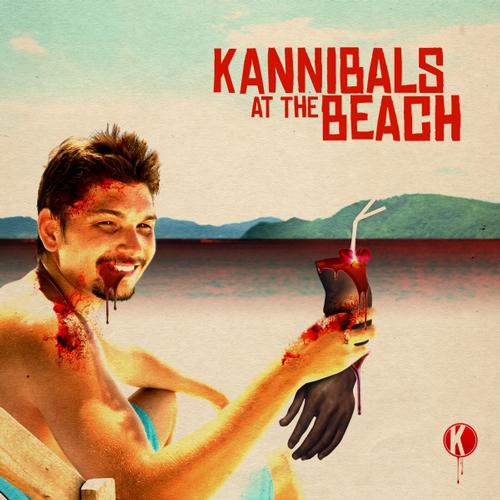 Article by Mitchell Buchanan

It's official. The summer is finally here in Canada. There were 2 tornadoes in Quebec last week, and on May 29th it hit 32 degrees Celsius in Waterloo. The tornado weather has cleared but the sticky heat won't leave us until September – luckily, we've got some friends at Kannibalen Records who have given us a great way to cool down on the hot days ahead. On May 28th, Kannibalen released their summer compilation album, entitled "Kannibals At The Beach". This 10-track album features brand-new tunes from some of Kannibalen's top artists, with music from Dabin, Dooze Jackers, Karluv Klub, Apashe, LeKtriQue and a slew of others. Ranging from dubstep to electro to hip-hop and everything in between, Kannibals At The Beach is a compilation that will turn even the lamest beach party into a deliciously bloody fright-fest.
The record starts off with an absolute scorcher from Montreal's very own Dabin. Mixing a standard 4/4 rhythm that features beautiful vocals from Daniela Andrade with a bouncing, offbeat-infused 3/4 drop, "Tell Me" is a bold statement from Dabin that announces he hasn't gone anywhere since his last release, and is surely cooking up some new fire. The bass is deep and the piano and vocals are haunting to remind us that Dabin isn't one to destroy us with aggression – instead, he creates a rollercoaster of a track with emotionally heavy sections that build into incredible, exciting moments of pure adrenaline-pumping action.


Several tracks later, we're given another dose of that good dubstep stuff with Apashe's string-infused "Eat My Apple." A fitting title indeed; part of the rhythm is made up of apple-eating sounds, and those crisp, crunchy sounds give the intro an extra-special juicy sweetness. Apashe wastes no time getting down and dirty in the drop – just after the 45-second mark and a brief vocal clip, we're thrown into a mix of descending, growling bass and incredibly orchestrated synth melodies. I love the bars here and there that feature the powerful offbeats just below the surface – if you've read other reviews, you'll know I'm biased in my love of bouncy offbeats, but take a listen to this track and I guarantee you'll be bouncing along with me and Apashe in no time.

Soon afterwards, LeKtriQue shows off his Belgian-influenced style with "The Last Hour." Pairing growling bass with high-end synth, "The Last Hour" grows steadily more futuristic as the track progresses. Moving from long synth chord progressions towards more staccato, whining, grinding effects, LeKtriQue proves he's not afraid to show off his production skills – at least, not until a deathly bell toll comes ringing and clanging through the middle of the track. 
There are 10 tracks in total on this album, but if we talked about them all, you'd be stuck here for days. Kannibalen Records have also included electro bangers from Charlie Darker, Karluv Klub, and Strava, as well as delicious bassy goodness from Kai Wachi, Marc Remillard, and Dooze Jackers. We can't say enough good things about every track on here – you'll just have to hear them all for yourselves.


At Dubstep.net, we love Kannibalen Records' macabre image. The undead, the grotesque, the most repulsive of creatures can sometimes be the most incredible of artists – we understand this, and our friends at Kannibalen do too. This is exactly why we couldn't wait to grab our summer gear and let the sun shine over us with Kannibals At The Beach; there's nothing like a hot day outside with some cold drinks, barely-covered flesh, and a few staplers in case our ghoulish friends' arms and legs fall off – and things get even better once the sun goes down. If you're looking for a sunny, bloody good time, the Kannibals At The Beach sure know how to give you the party you've always wanted! 
BECOME A KANNIBALEN TRIBESMAN HERE :
www.facebook.com/Kannibalen.Records
www.kannibalenrecords.com 

Follow us @ http://www.Dubstep.NET
Comments